See 20 Years of CSUMB Winning Posters
About the FNM Poster & Button Design
Since 2003, First Night Monterey staff has collaborated with CSUMB professors and the Service Learning class for Publication Design students, engaging the students into a creative competition to design the annual First Night Monterey Poster and Buttons. FNM artists work with the design students from theme concept to design for five weeks in class until selection of the final design. The winner will have the opportunity to produce the graphics for print and web.
FNM 2024 POSTER SUBMISSIONS
And the Winner is....Tatiana Cabrera!
Tatiana is a student at Cal State Monterey Bay. She is from Carmel Valley CA and is graduating this fall with a bachelors of science in visual communication design. In addition to being a graphic designer she is a self taught artist. From an early age Tatiana was drawn to the art world like a moth to a flame. During her teenage years she focused on portraiture and now she creates large scale abstract works. Her work can be found at Patricia Qualls Contemporary Art ( Located in Carmel By The Sea and Carmel Valley).
When it came time for college Tatiana decided to pursue a graphic design degree since it combined her two favorite things; art and technology. After graduation Tatiana hopes to work in branding and advertising while still creating abstract works. But her overall professional goal is to not simply create designs that solely serve practical purposes but ones that are themselves works of art. Hence enriching the human experience in a positive way.
Besides creating art and designing Tatiana also enjoys coding, playing tennis and watching films.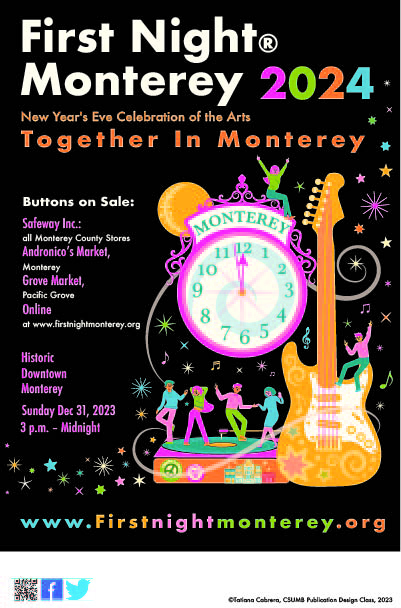 Entries Submitted for FNM 2024
Click or tap on Poster to enlarge