Summer Day Camp

at the First Night Monterey Studio
A Creative Exploration! Imagine, Create, Discover!
Archer Park Community Center
542 Archer Street, Monterey
Children of all ages love the chance to be creative, and First Night Monterey's Summer Day Camps use arts as a catalyst to nurture creativity and enhance skills in a non-competitive, safe, fun environment. No prior experience or talent needed. There is a lot of fun and learning with age-appropriate mentoring as your children create in a real studio environment and have the opportunity to paint, draw and make with a variety of materials. Each Friday features a gallery exhibit of their work completed during the camp week.
SUMMER DAY CAMP PROJECTS CAN INCLUDE:
CAMPS LED BY FIRST NIGHT'S PROFESSIONAL ARTISTS
Enrollment is limited and registration will close early when session is full.
Sign Up Now!
FOR Summer Camp
2019 SESSIONS
9:30 A.M. – 4:00 P.M. Monday thru Friday
Session 1: June 17 –21, 2019 Ages: 7-12 Session Closed
Session 2: June 24 –28, 2019 Ages: 11-16 Session Closed
Session 3: July 8 –12, 2019 Ages: 7-12 Session Closed
Session 4: July 15 –19, 2019 Ages: 11-16
Session 5: July 22 –26, 2019 Ages: 7-12 Session Closed
Session 6: July 29 –August 2, 2019 Ages: 11-16
FEES (MATERIALS INCLUDED)
One-Week Session: $275
Two Sessions: $450 ($100 Discount)
Discount available for enrolling two or more family members in the same camp session.

FEES FOR EXTENDED SUPERVISION
Mornings: 8:30 A.M. - 9:30 A.M. $30/week
Afternoons: 4:00 P.M. - 5:30 P.M. $50/week
To sign up, please fill out the registration form online and mail your check made out to First Night Monterey.
For additional information, call 831-373-4778 or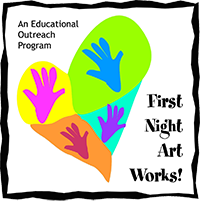 Anti-Bullying Policy The physical and emotional safety of our campers and staff are central to First Night's Day Camps and vital to its overall mission. As such, we take the issues of bullying, harassment, and violence very seriously. Bullying is generally defined as when one or more people maliciously exclude, tease, taunt, gossip, hit, kick, or put down another. First Night's leadership investigates any and all allegations of bullying, and trains camp supervisors to promote positive communication, so that campers can feel comfortable voicing their concerns to staff. By working together as a team to identify and manage bullying, we can help ensure that every camper has a great experience here at First Night Monterey's Day Camps.